Weekly Mortgage Market in Review
 

Conforming Vs. Jumbo Loans

If your client is looking at a home with a high price tag, they may want to consider a Jumbo loan. Jumbo loans are designed to finance luxury properties and homes in largely competitive real estate markets. They also come with unique underwriting requirements and tax implications.

 
The majority of mortgages in the United States are purchased and guaranteed by, Fannie Mae and Freddie Mac. These two government-sponsored enterprises cover almost any mortgage, as long as it follows their "conforming loan" guidelines which include the size of the loan. The maximum amount for a single family conforming loan is $417,000 in most of the U.S.; though in federally designated "high cost" areas, it may be as high as $625,500. When mortgages exceed these thresholds, they receive their "jumbo" status.
Recent enhancements to Jumbo lending guidelines have created an outstanding opportunity for your clients to increase their purchasing power, while keeping more of their assets liquid.
As little as 15% down with no MI
Loan amounts up to $5 million
Self employed OK!
As one of the Northwest's leading mortgage banks, PRM has the products and resources to provide access to these and other equally attractive financing options.
If your client is interested in taking advantage of Jumbo loan options or has questions about being eligible for this loan, contact me today!
PRM, Your Solution Based Lender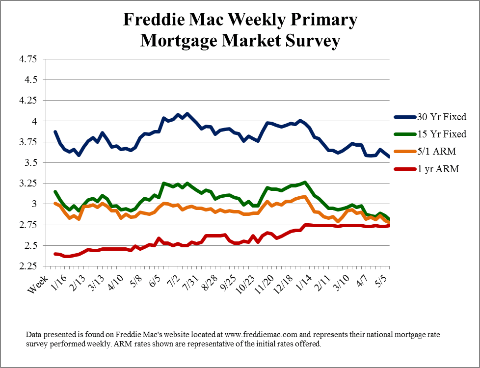 Market Comment
Mortgage bond prices finished the week slightly lower which pushed rates higher.  Rates seesawed back and forth throughout the week within a very narrow range.  The Treasury auctions gained more attention early in the week amid no data.  The auctions were generally solid except for some mixed demand for the 30 year offering. Stocks were volatile throughout the week.  The DOW closed up over 200 points Tuesday only to close down over 200 points Wednesday.  Weekly jobless claims were higher than expected at 294K versus 270K.  Unfortunately we saw no rate decreases in response.  Producer prices rose 0.2% versus the expected 0.3% increase.  The core rose 0.1% as expected.  Mortgage interest rates finished the week worse by approximately 1/8 to 1/4 of a discount point.
Looking Ahead
Economic Indicator

Release
Date & Time

Consensus Estimate

Analysis

NAHB Housing Index

Monday, May 16,
10:00 am, et

58.5

Moderately Important.  A measure of single family housing.  Weakness may lead to lower mortgage rates.

Consumer Price Index

Tuesday, May 17,
8:30 am, et

Up 0.2%,
Core up 0.1%

Important.  A measure of inflation at the consumer level.  Weaker figures may lead to lower rates.

Housing Starts

Tuesday, May 17,
8:30 am, et

1092K

Important. A measure of housing sector strength.  Weakness may lead to lower rates.

Industrial Production

Tuesday, May 17,
9:15 am, et

Down 0.2%

Important. A measure of manufacturing sector strength.  Weakness may lead to lower rates.

Capacity Utilization

Tuesday, May 17,
9:15 am, et

74.4%

Important. A figure above 85% is viewed as inflationary.  Weaker figure may lead to lower rates.

Fed Minutes

Wednesday, May 18,
2:00 pm, et

None

Important. Details of the last Fed meeting will be thoroughly analyzed.

Weekly Jobless Claims

Thursday, May 19,
8:30 am, et

284K

Important.  An indication of employment.   Higher claims may result in lower rates.

Philadelphia Fed Survey

Thursday, May 19,
10:00 am, et

-1.4

Moderately important.  A survey of business conditions in the Northeast.  Weakness may lead to lower rates.
Fed Minutes
The Federal Open Market Committee decided in December of 2004 to reduce the lag time between the open market committee meeting and the release of the minutes from six to eight weeks to only three weeks.  The minutes from the meeting have the ability to cause mortgage interest rate volatility because they provide more policy details than the standard post meeting release.  Most importantly the minutes provide the Fed's complete economic analysis and the various opinions of individual Fed members.  There is typically an overwhelming consensus among the members.  However, there can also be dissension, which often causes uneasiness in the financial markets.  In the past the release often came and went without much uproar.  Lately the financial markets have been so uncertain that every piece of data receives some reaction.  Keep in mind that if any of the text seems troubling to analysts you can see market volatility.
Remember that mortgage interest rates remain historically favorable.  Capitalizing on current rates is a sure thing.
Copyright 2016. All Rights Reserved. Mortgage Market Information Services, Inc. www.ratelink.com The information contained herein is believed to be accurate, however no representation or warranties are written or implied.
This electronic mail may contain confidential or privileged information and unauthorized use, copying or distribution other than by the intended recipient is prohibited. In the event you received this communication in error, please notify the sender. Unsubscribe Copyright © 2016. Pacific Residential Mortgage, LLC. All right reserved. Credit on approval. Terms subject to change without notice, Not a commitment to lend. Equal Housing Lender. www.nmlsconsumeraccess.org